Welcome to the June 2017 IBS Newsletter
Get to Know Our New Client Relations Team
In our March 2017 newsletter we shared our transition from using the term "Dealer" to referring to you, our highly valued partners, as our "Clients."
One of the impacts of this change was the merger of our Dealer Relations and Dealer Service teams into one pretty awesome team, now called "Client Relations." As you can see from this photo, our Client Relations folks are already collaborating and coming up with great new ways to serve our clients! (Pictured from left to right are Paige Sandlin, Susan Marsh, Mandy Knight, Chris Story and Tami Henderson.)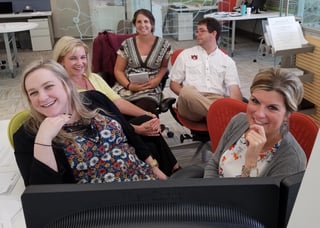 Think of our Client Relations team as your one-stop-shop for assistance on anything from Client Connect to in-house training to marketing opportunities to help you grow.
Our new team can't wait to hear from you, so they've created two email addresses for your use:
Email Client Relations at ibsclientassistance@bibank.com for the following:
Invoice approval assistance
Questions on information notices
Request a customer list
Client Connect questions or password issues
Email Client Relations at ibsclientrelations@bibank.com for the following:
Questions about the service we offer, including marketing options
Additional training for new team members along with refresher training for team members who are changing roles
Offer feedback on our service or discuss additional needs
Streamline process for acquisitions and new location startups, upcoming special events, and potential software integration
Do You LIKE Us?
Like Us On FACEBOOK!
Follow Us on TWITTER!
Thank You Franklin Equipment!
IBS team members Steve Williams, Shane Stewart, Chris Story and Keith Budd attended Franklin Equipment's Open House earlier this month, and would like to thank you for this especially warm welcome from the Tennessee Titans cheerleaders!

Additional Ways to Pay
Please remind your customers that in addition to traditional payment options, IBS also accepts payments by ACH and by MasterCard!
ACH Online Payments:
Online payments are deducted from your customer's checking account through an electronic ACH transaction. We work directly with customers to arrange ACH online payments. We'll also be happy to work with you to convert your existing non-IBS customers to our service if you've kept them in-house to pay via ACH. Please contact Judy McClure or Kim Lee at 1-800-332-9140, ext. 2400 for assistance.
PayConnect online payment is available at no charge. Customers can find directions by logging in to interstatebilling.com/customer-connect.
Payments can be scheduled for a future date
PayConnect gives customers the ability to pay single or multiple invoices

Online payments scheduled after 12:00 midnight Central Time through PayConnect will be processed on the next business day.
MasterCard Payments:
Did you know that we offer your customers the option to pay us via MasterCard credit card? For more information, please ask your customer to contact IBS Customer Service at 1-800-332-9140.
Want to Earn Some Extra Cash AND Do a Friend a Favor?
Why not participate in our referral program?
If you know of a company that could benefit from the services IBS provides, we would love to reach out to them! Simply click the button below and tell us about your referral. We'll contact you to complete the referral program paperwork and review the amount you'll receive from IBS every month if your friend becomes an IBS client. It's a win-win-WIN!

Let Us Help You Market Your Business!
Did you know that your IBS relationship includes COMPLIMENTARY professional marketing services to help your business grow? Let us put our analytics and creative resources to work for you to grow your business through a free customized postcard mailing to prospective customers in your area.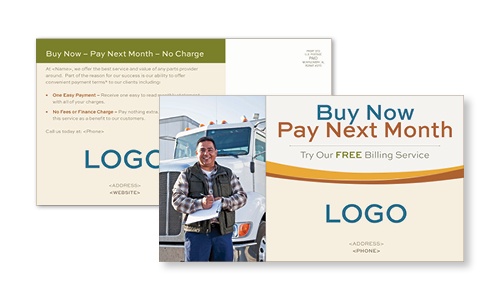 Our Client Relations team will work with you to find the best solution(s) for your business needs. Simply contact Client Relations at ibsclientassistance@bibank.com to get started or complete the form below and we'll contact you!



Extended Financing Now Available
We now offer extended payment options for customers making large parts and service purchases (over $5000). Upon application approval the customer will receive monthly statements from our parent company, Bank Independent, for a three- to twelve-month term at a moderate interest rate. Also, there is no penalty for early payoff.
To request an extended financing application or order customized extended financing brochures for your location(s), please contact IBSextended@bibank.com.
IBS will be CLOSED on Monday, September 4, 2017 in observance of Labor Day.
However, our Client Connect and Customer Connect online portals
will be available for instant access and online sale approvals.
Help Us Improve Client Connect
Do you have suggestions for improvements to Client Connect, or just want to tell us how much you love it? Let us know what you think by clicking the box below and entering your comments!


Not using Client Connect? Learn more here.